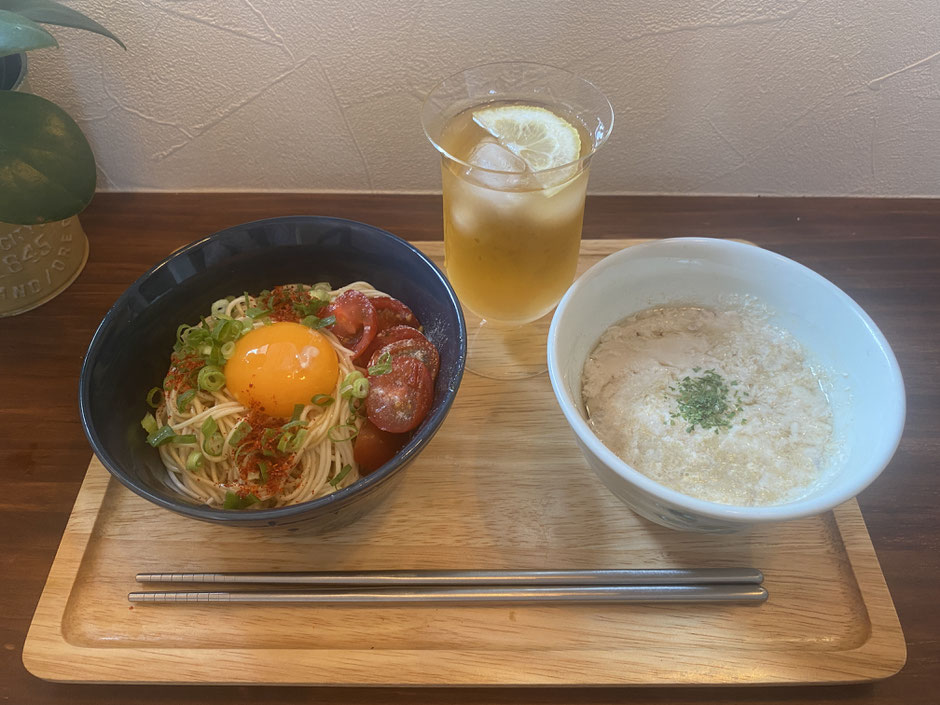 In summer, both motivation and appetite tend to wane. And since the weather is becoming warmer and warmer, it's time to be prepared for a quick, energy-infused meal.
This cold-style dish will stimulate your tongue, so even when you are reluctant to eat, the smooth, cool sensation will make you return, over and over, for "one more sip" (this is also why the Japanese prefer cold-style noodles, such as ramen and soba , in season).
Easy cooking saves your guts for tomorrow!
Super quick olive oil somen, Japanese cold-style noodles
-Cooking time: ten minutes (serves one)
-Ingredients:
2/3 tablespoon soy sauce
1-2 tablespoons extra virgin olive oil
1 teaspoon sugar
1 teaspoon white wine vinegar
2/3 teaspoon Hondashi powder (Japanese fish-based soup stock)
1 teaspoon nam pla fish sauce
----------------------------------------------------------
1/2 clove garlic
1 bunch somen (can be replaced with angel hair pasta)
1 egg yolk (egg white can be used for the soup, below)
4 mini tomatoes, cut in quarters
1 tablespoon chopped scallion
Chili pepper and/or grated parmesan to taste
-Directions:
1.     Boil water for noodles in a medium pan.
2.     Stir the first group of ingredients (above the line) in a bowl. Grate the garlic and add.
3.     Add somen to the boiling water and boil for 1-2 minutes (or following package instructions).
4.     Drain and rinse the noodles and soak in ice cold water (as seen in the photo) before draining well.
5.     Place the noodles in the bowl and thoroughly mix with the ingredients.
6.     Place the seasoned noodles in a dish and top with egg yolk, tomatoes, scallions and spice. Enjoy!
Seasonal option
Try it with warm pasta (as seen in the photo ), topped with seaweed aonori (or crushed nori). It's easier!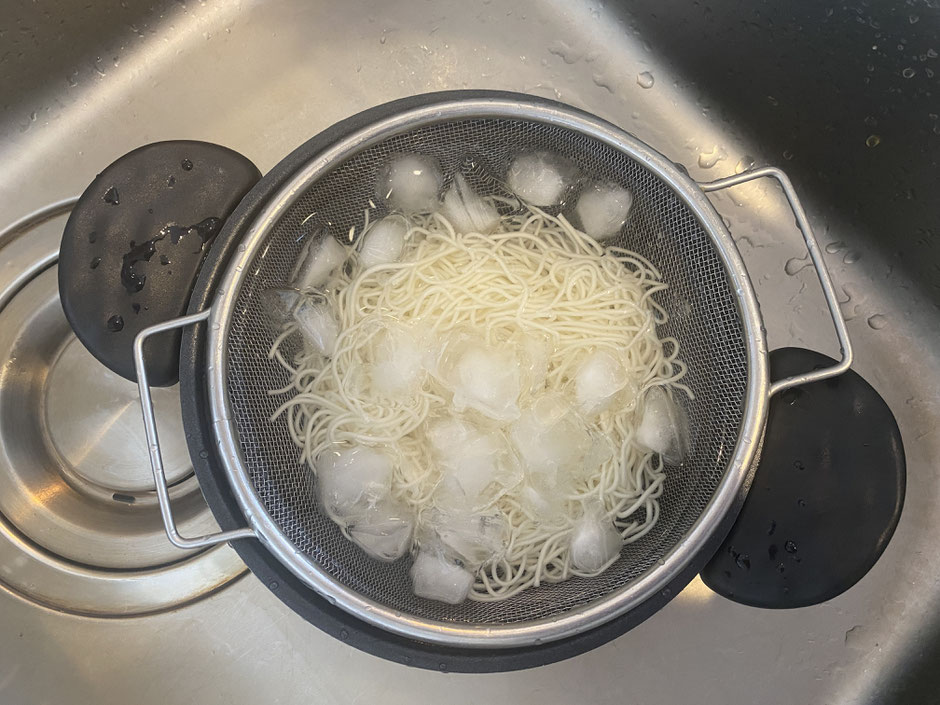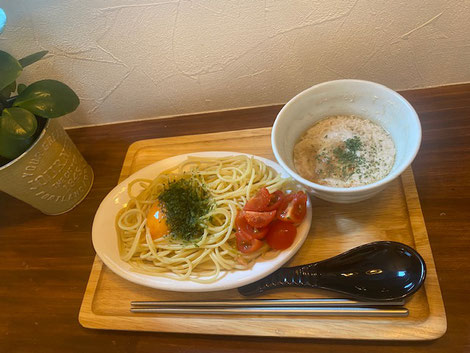 Asian soup
-Cooking time: Three minutes (serves one)
-Ingredients:
1 egg white
4/5 cup (160ml) water
2 teaspoons Mizkan Ajipon (Japanese citrus vinegar and soy sauce)
Few pinches cumin, Chinese five-spice powder, red pepper powder 
-Directions:
1.     Pour water in a soup cup with egg white, spice and Ajipon.
2.     Mix well and microwave for 2 minutes.
3.     Top with dried parsley and enjoy!