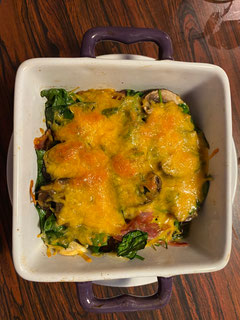 When your soul needs something to heal your devastated guts, home cooking is much better than dishes from deli.
In Japanese old proverb, it is said  "You know courtesy and manners, once you are fulfilled with food and clothes"
Then if you don't feel like cooking but wanna drink accompanied with something tasty, just try this to boost your immunity for Coronavirus. (Serving 1)
As usual, it's so healthy and less calorie using Japanese wisdom.
You need:
3oz fresh cooking spinach
sliced mushrooms (about 3tbs)
2 slices of salami ( tore  into bite sizes, replace with tofu-sausage if you like)
1/4tsp chicken bouillon cube
1/2 tsp dried rosemary
 1/4 cup shredded mild-cheddar cheese 

1. Apply cooking-spray on your small casserole. Place  fresh cooking spinach, sliced mushrooms , salami、  chicken bouillon cube,  dried rosemary.

2. Roughly cover and microwave 1 minute.

3. Mix well and taste. Add salt if needed.

4. Top with 1/4 cup shredded mild-cheddar cheese and bake 7 minutes in toaster oven.

Dig in!!
Too difficult? Okay, I agree and understand. So here is a much easier yet yummy way for you, using Japanese seasonings, which you can get from Japanese groceries or amazon etc.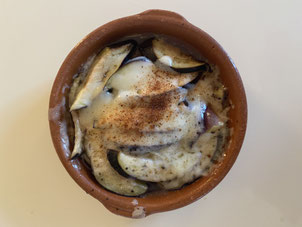 Ingredients:
One small eggplant. (If it's big, please  double the rest of ingredients)
1 tsp sesame oil
1 tbsp Shirodashi (Japanese soup stock)
1/2 tsp dried thyme and rosemary
1 slice or 2 tbsp of melting cheese
A hint of dried nutmeg (or paprika) and gound black pepper to taste 
1. Slice eggplant as thinly as shown in the picture below. In a small bowl, soak them in salted water. Adding this process prevents eggplant from absorbing unnecessary oil. (Japanese wisdom!)
2. Place eggplant in a microwave-safe dish and then sprinkle dried thyme, rosemary, and ground pepper. Pour Shirodashi and sesame oil. 
3. Sprinkle cheese and microwave for 2 minutes.
4. Garnish with nutmeg and dig in!!