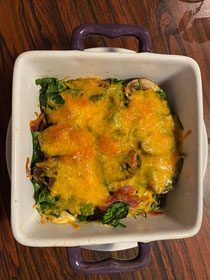 If you don't feel like cooking but wanna drink, just try this to boost your immunity for Coronavirus. (Serving 1)

1. Apply cooking-spray on your small casserole. Place 3oz fresh cooking spinach, sliced mushrooms (about 3tbs), 2 slices of salami ( tore  into bite sizes, replace with tofu-sausage if you like), 1/4tsp chicken bouillon cube, 1/2 tsp dried rosemary.

2. Roughly cover and microwave 1 minute.

3. Mix well and taste. Add salt if needed.

4. Top with 1/4 cup shredded mild-cheddar cheese and bake 7 minutes in toaster oven.

Dig in!!