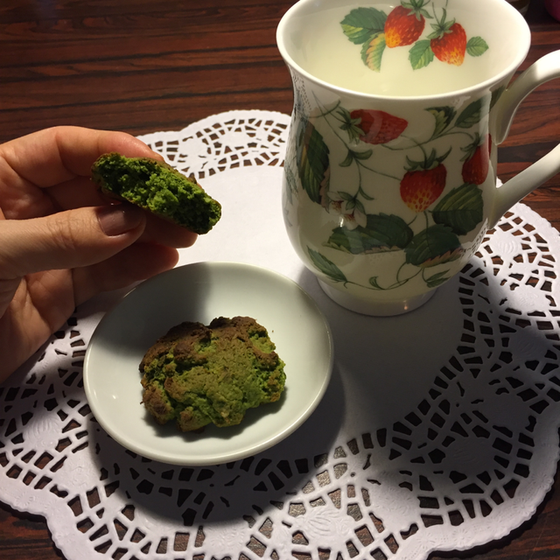 Dinner is over. Now you've started to regret "Why didn't I buy that cheesecake? It was on sale! I am dying for something sweet!!"
But it's too late. You have showered and are now wearing your favorite pajamas...
No worries! Here is a quick dessert recipe, which you can make as it only needs something that you always have in your kitchen. 
Just stir the ingredients with a tablespoon and put it into the toaster oven. Then it will be done while you're doing dishes or making coffee/tea.
You have probably heard of a pound cake recipe. One pound of flour, one pound of butter, one of pound sugar and so on.
My recipe is quite similar, but obviously, one pound of butter/sugar is way too ridiculous for your diet.
Are you ready? Here is everything that you need:
1 tablespoon whipped butter
1 tablespoon cream cheese
1 tablespoon maple syrup 
2 tablespoon pancake/waffle mix
1-2 teaspoon sugar
1 package (1.5g) of Matcha Powder (no sugar)
1. Place the butter and cream cheese in a bowl and microwave for 10 seconds.
2. In the bowl, pour pancake mix, Matcha Powder, maple syrup and sugar. Stir well.
3. Spray non-stick oil (or spread a thin layer of butter with your fingers) on to a baking sheet or aluminum foil. Drop the mixture shaping in your choice of size. (As you can see in the photo, they are divided into 4 pieces)
4. Bake in a toaster oven for 6-7 minutes, until it's slightly brown.
5. Cool them for a while and dig in!