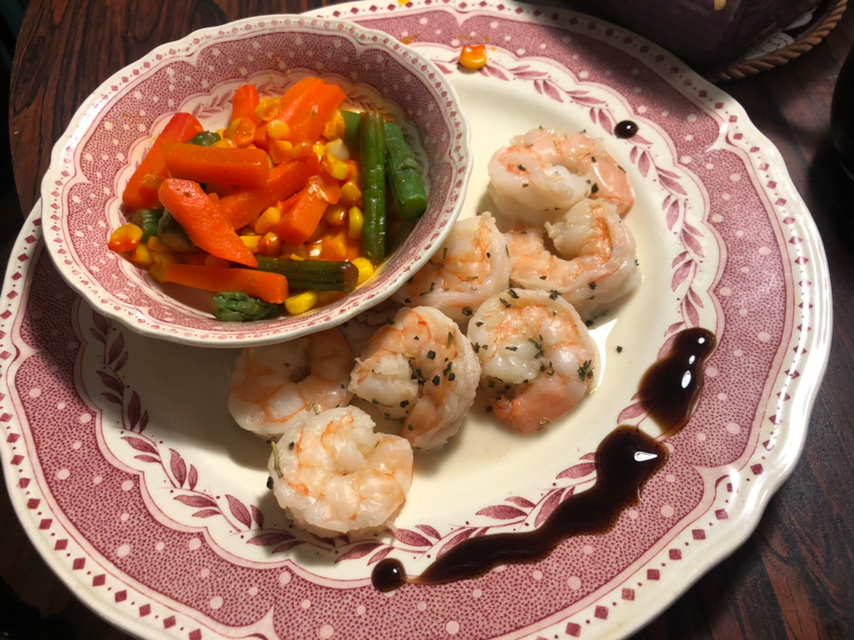 Today, here is my Minimal Cooking with microwave series 2!
Japanese people eat any kind of dishes daily, Western or Asian. Actually, maybe you think Ramen is a Japanese dish. But it's not.
Ramen is originally from China, we then transformed it by our innovative soups/toppings!
Thus, Japanese food is quite eclectic. Here is a good example of a Japanese recipe, which is similar to Pacific Rim.
 
***
If only you have frozen cooked shrimp in your freezer, you will still have an ideal dinner with high protein/low fat, which will be ready for you to eat in just a few minutes.
BTW, who is going to chop fresh herbs, at the end of a tough working day? (Maybe no one.) No worries, dried herbs will be doing a great job.
1. Defrost the shrimp (as many as you would like) in a large bowl. High for 2-3 minutes.
2. Drain the liquid from 1. and  season with basil, rosemary, white pepper and salt. Then coat them thinly with  1/2 tbs flour.
3. Cover 2. with coconut coffee creamer (add about 2 tablespoons for each person) and microwave on a high setting for 1-2 minutes, until it's hot.
4. Pour a small amount of olive oil (if desired) and serve with balsamic vinegar on the side.
***
Hungry? Salad, baked tomato with mozzarella cheese/sour cream or frozen vegetables seasoned with chicken broth and Mexican spice mix. These would be all be great side dishes.
Dig in!!