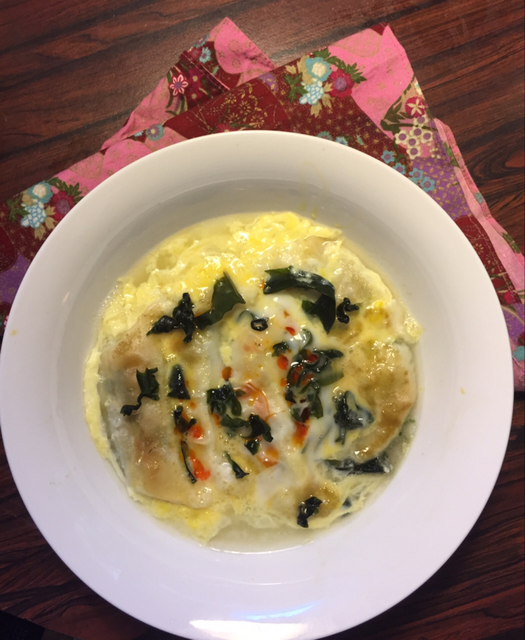 The recurring FAQ to me is "Why you Japanese can stay slim without workout?"
I tried hard to analyze and the answer is "Non-oil Cooking". 
Just forget about "Fry" and "Deep Fry".
Most of the popular Japanese dishes are either boiled, steamed or roasted without oil. Ramen, Sushi, Teriyaki, whatever.
Now y
ou know who is quite good at these kind of cooking. Yes, Microwave!
Here is a typical example of my quick microwave cooking. 
Just like my music, it's simple and yet heart-warming. High in protein and fiber (or nutritious to your mind) and low in carb and oil (light and relaxing). Enjoy!
Shrimp Gyoza Soup (serving 1)
1. Boil 1.5 cup water in a big bowl. (Microwave on a high setting for about 4-5 minutes.)
2. Put the frozen gyoza (can be replaced w/any kind of gyoza, cooked shrimp or chicken strips) and microwave it on a high setting for about 1-2 minutes.
3. Take out the bowl and pour one tablespoon of dried Wakame(seaweed), 1/2 tbs of dried konbu soup stock(seaweed), and one beaten egg. Microwave for 1 minute.
4 Take out the bowl and season with salt and add a hint of soy sauce and chili oil (or any of your favorite spices).
5. Dig in!!